Bank Bounced Check Fees Class Action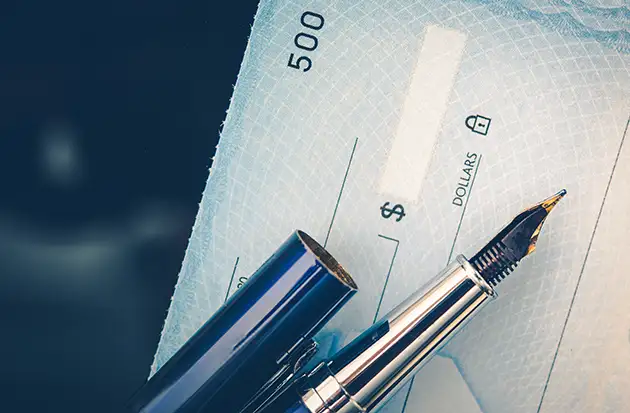 Photo Credit: Unsplash | Published: November 20, 2023
Claim Form Deadline: Ongoing
Estimated Payout: $2000 - $5000
Proof required: Yes
How Do I Get Reimbursed for a Bounced Check Fee?
Did your bank charge you a fee for a bounced check? You may be owed compensation. Bounced check fees, also known as Non-Sufficient Funds (NSF) fees or returned item fees, are charges levied by banks if you attempt to make a payment or withdrawal, but your account lacks the necessary funds to cover the transaction. These fees typically range from $25 to $50 per bounced check, and these bounced check fees can very quickly add up, causing financial strain for those who are already trying hard to reasonably make ends meet.


Returned Check and Bounced Check Fees
There are several issues with bounced check fees. Many consumers are unaware of the specific circumstances that trigger bounced check fees or the exact amount they will be charged. This lack of transparency makes it difficult for individuals to make informed financial decisions and budget effectively. The fees can also build up and add up, even when no action is taken by a consumer. The fees vary widely, and the information below may have been updated since this article was published as of November 2023:


| Bank | Bounced Check Fee |
| --- | --- |
| Chase Bank | $12 |
| USAA | $29 |
| Wells Fargo | $35 |
| Bank of America | $10 - $35 |
| Citibank | $38 |
| U.S. Bank | $35 |
| TD Bank | $35 |
| Capital One | $35 |
| Truist Bank | $36 |


It's not only paper checks that can cause bounced check fees. Electronic payments can also be subject to these fees if there are insufficient funds in the linked account. This can catch consumers off guard and result in unexpected charges.

Bounced check fees have long been defended by banks as a necessary measure to deter irresponsible financial behavior and cover administrative costs. However, the impact of these fees on consumers, particularly low-income individuals, raises serious concerns about their fairness.


How Do I Qualify? How Much Can I Get?
Did you deposit a check at your bank (that someone else gave you) in the past 5 years only to find that it bounced, and you were charged a fee? If yes, you may be owed compensation. If the Court and judge approves, the payout is estimated to be from $2,000 to $5,000 per qualified claim.


Do I Need Proof to Get Paid?
If you deposited a check in the past 5 years that resulted in bounced or returned check fees, you may be qualified for up to $5000 in compensation. The only proof that is required is the bounced check fee from statements or documents showing you were charged. If this is approved by the Court, you may end up getting paid between $2,000 and $5,000 in compensation. To file a claim follow the link below:



How Do I Find Class Action Settlements?
Find all the latest Class Action Settlements you can qualify for by getting notified of new lawsuits as soon as they are open to claims:





Attorney Advertising. The information on this website is for general informational and advertising purposes. No attorney-client relationship between reader and Siri & Glimstad or their partner firm is created by submitting the form above. Upon submitting the form, you agree that a representative from Siri & Glimstad or their partner firm may contact you.
For more open class actions keep scrolling below.