Wesson Oil False Advertising Class Action Settlement Paying Out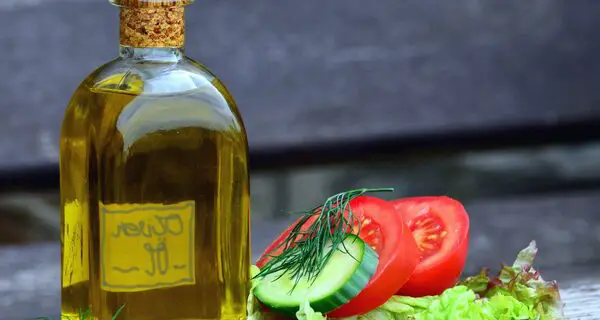 Photo Credit: Unsplash | Updated: November 9, 2023
Claim Form Deadline: Passed
Proof required: No
Method of payment: PayPal / Mailed Check
Wesson Oil Class Action Settlement Pays Out
Consumers are reporting that they are receiving payouts from the $3,000,000 Wesson cooking oil class action settlement. Some users are reporting payouts of up to $20 per valid claim form filed as of November 9, 2023. Check your email inboxes and make sure to check your spam folders for emails from the following sender: [email protected] if you chose the PrePaid card payout option. The email from the Wesson Oil class action lawsuit administrators may look something like this: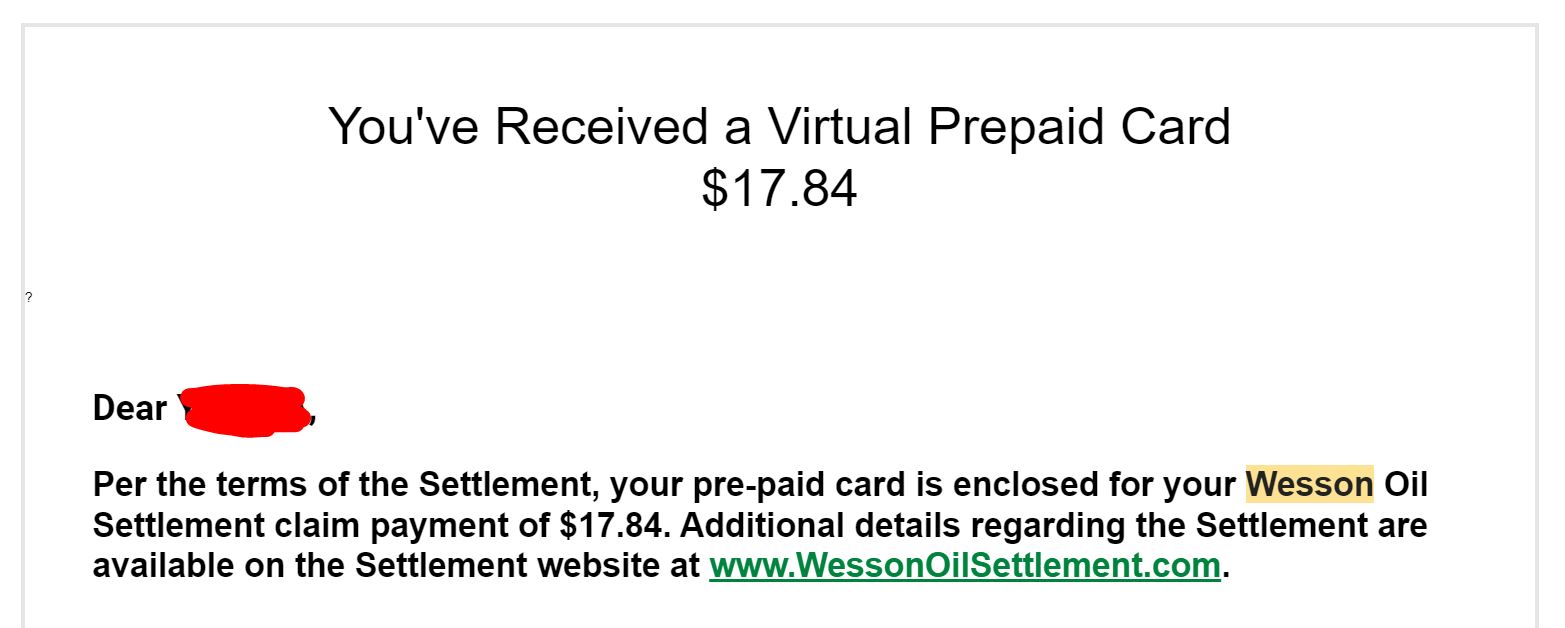 The Wesson Oil digital prepaid card is reimbursed via myprepaidcenter.com, which looks like the following digital card: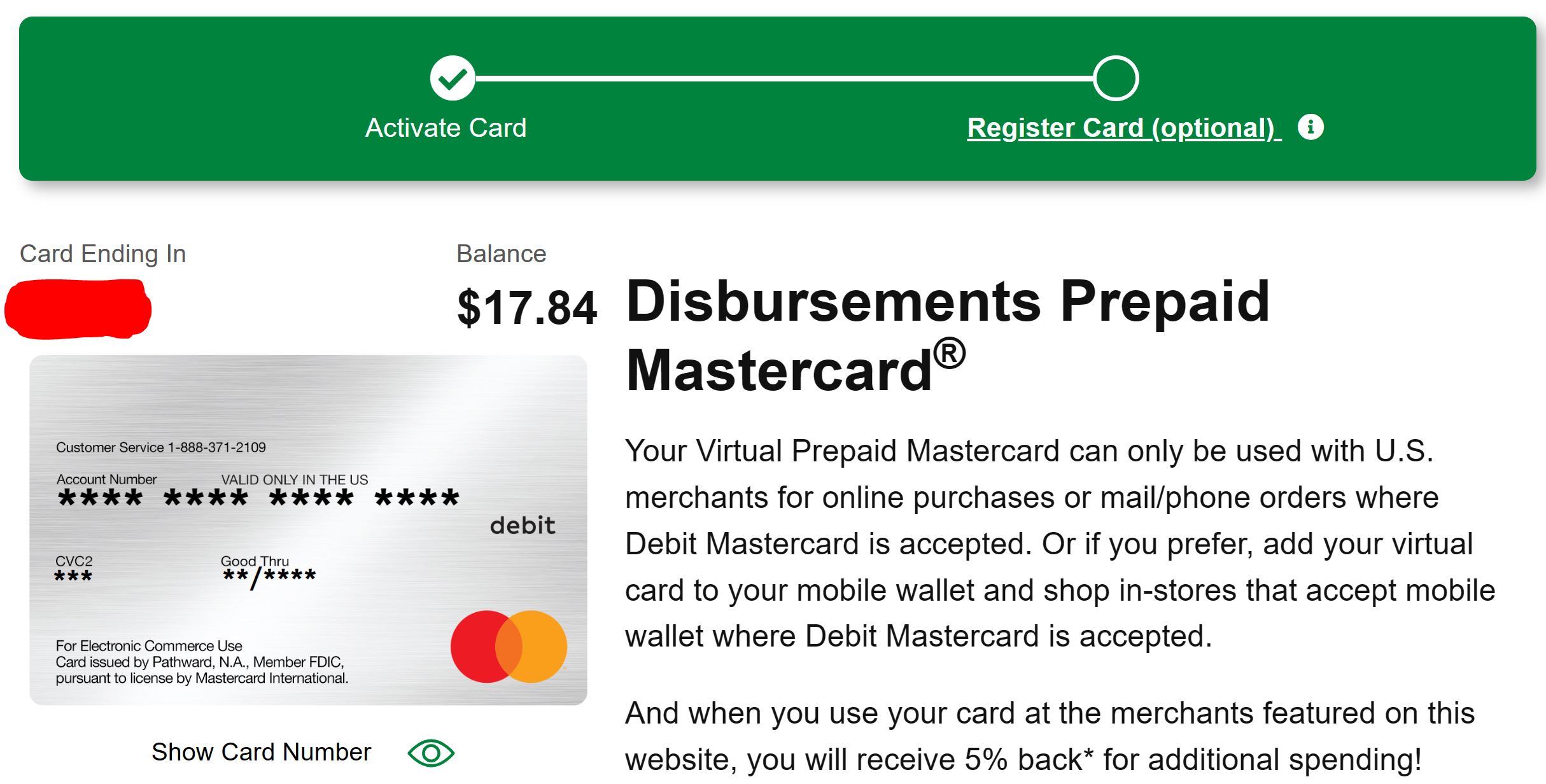 The Wesson open class action lawsuit is closed to new claims. Check out new open class actions that are currently open to claims with or without proof of purchase here.


What is the ConAgra Wesson Oil Settlement About?
A $3 Million Class Action Lawsuit has been settled with ConAgra over its former brand, Wesson Oil. The Wesson Oil Class Action Lawsuit alleged that Wesson Oil was marketed by ConAgra Foods Inc. as all "natural" falsely, as it is allegedly made from GMO's - or, genetically modified organisms, or components. ConAgra sold and marketed Wesson Oil as "natural" using deceptive false advertising practices, according to the class action, and has agreed to settle out of Court for $3 Million.

While the Wesson Oil Class Action has been settled, ConAgra and Wesson Oil did not accept any wrongdoing or accept the accusations of falsely advertising GMO products as "Natural". The settlement was arrived at to avoid further court and litigation costs, and the judge in the case did not decide as to either party, class action members, or the defendant Wesson Oil, as being wrong or right. This class action settlement only affects consumers who purchased Wesson oil in 11 states. The full list of States that qualify are included below.

New York and Oregon consumers who purchased qualified Wesson Oil products have been given an allocated fund of $575,000 out of the $3,000,000 class action settlement fund, which will only go to qualified claim cash payouts for New Yorkers and Oregonians. If there are more (or fewer) class action claims than anticipated, the payout of $0.15 per Wesson Oil product in a claim will be adjusted accordingly (up or down in amount).

The Wesson Oil products that are included in the ConAgra class action settlement are as follows, which were marketed as "Natural" during the class action periods, listed below:

• Wesson Vegetable Oil,
• Wesson Corn Oil
• Wesson Best Blend,


How Do I Qualify?
You are a Class Member of the Wesson Oil Settlement if you purchased Wesson Oil products for your own personal use, and not for resale in any of the following states during the indicated time periods:


| State | Purchase Period |
| --- | --- |
| Illinois | January 12, 2009 - July 1, 2017 |
| California | June 28, 2007 - July 1, 2017 |
| New York | January 12, 2008 - July 1, 2017 |
| Ohio | January 12, 2010 - July 1, 2017 |
| Colorado | January 12, 2009 - July 1, 2017 |
| Florida | January 12, 2008 - July 1, 2017 |
| Texas | January 12, 2010 - July 1, 2017 |
| Indiana | January 12, 2006 - July 1, 2017 |
| Oregon | January 12, 2006 - July 1, 2017 |
| Nebraska | January 12, 2008 - July 1, 2017 |
| South Dakota | January 12, 2006 - July 1, 2017 |
How Much Can I Get for the Wesson Oil Settlement?
The estimated payout is at $0.15 per unit of qualified Wesson Oil product. However, the payout amount will be pro-rated and adjusted up or down depending on the amount of qualified claims. Only one claim per household is allowed. The Court will be holding a final approval hearing on April 24, 2023 at 1:30 p.m., Pacific and payments will only be made after approval, any appeals are made and resolved. As always, do not file claims you do not qualify for as you are filing claims under perjury, and would be harming other qualified class action members by fraudulently filing claims.


How Do I Find Class Action Settlements?
Find all the latest Class Action Settlements you can qualify for by getting notified of new lawsuits as soon as they are open to claims:


How Do I File a Claim?
To be eligible to receive a payment from the $3 Million ConAgra Wesson Oil Class Action Settlement, you must complete and submit a timely Claim Form by May 22, 2023 electronically HERE.




If you already filed a class action claim in the previous, 2019 Wesson Oil class action settlement, you do not need to file a claim in the 2022 Wesson Oil ConAgra Open Class Action Settlement.



For more class actions keep scrolling below.