JIF® Recall - Salmonella Peanut Butter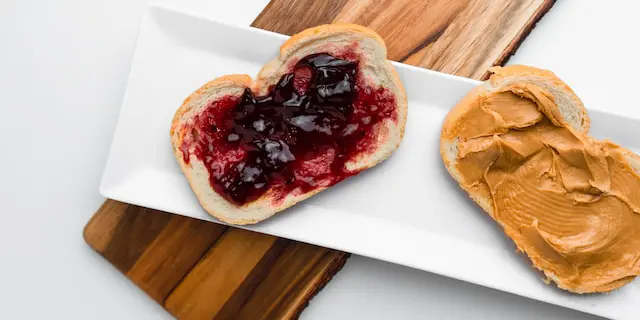 Photo Credit: Unsplash | Updated: April 28, 2023
Claim Form Deadline: Pending
Estimated Payout: Varies
Proof required: No
Method of payment: Coupons
What's This About?
JIF Peanut Butter is issuing coupons for free JIF® peanut butter to consumers who claim to have purchased certain JIF peanut butter products. Read more here to find out whether you can get coupons for JIF® peanut butter.

JIF®, a brand of peanut butter manufactured by the J.M. Smucker Company, has issued a product recall due to a potential source of bacteria, specifically salmonella, identified in their production equipment. The FDA, CDC, as well as state and local authorities are investigating individual cases of salmonella poisoning.

The FDA has also released a list of foods that were recalled as a result of using JIF peanut butter in their recipes:

• Deskins Candies
• Praire City Bakery - Peanut Butter Chocolate Chip Ooey Gooey Butter Cake
• F&S Fresh Food - Protein Power Snack
• Taharka Brothers Ice Cream - Peanut Butter Cup Ice Cream
• Giant Eagles
• Safeway Fresh Foods - Apple and Peanut Butter Snack Trays
• Quick Chek
• Rich's - Albanese Confectionery Group, Inc. - Peanut Butter Cups
• A G Specialty Foods
• Bix Produce Company
• Euphoria Chocolate Candies
• Walmart and Fudgeamentals Fudge
• Del Monte
• Albertsons Companies
• Coblentz Chocolate Company
• Mary's Harvest Fresh Foods Inc. - Celery and Apple Peanut Butter Cups
• Garden Cut, LLC
• TAHER, INC Power Packs
• Country Fresh
• Cargill Chocolate Products
• Wawa - Apple and Peanut Butter Dipper

Meanwhile, the J.M. Smucker Company has issued a voluntary recall as well as a submission process for consumers who purchased certain batches of JIF peanut butter to recoup their losses.


How Do I Qualify?
You may qualify to get reimbursed by JIF and the J.M. Smucker Company if you purchased certain lots of JIF peanut butter: specifically, the first seven digits of the product code range for the impacted products are 1274425 - 2140425. The last three numbers of the Product Code must be 425 in order to be included in the recall and for you to be reimbursed. You can check the JIF recall website for a full list of lot codes and how to find the product codes on your peanut butter cans. Here are some examples of products included on the list, in various package sizes:

• JIF CREAMY OMEGA 3 PEANUT BUTTER
• JIF CREAMY PEANUT BUTTER
• JIF CRUNCHY PEANUT BUTTER TO GO
• JIF EXTRA CRUNCHY PEANUT BUTTER
• JIF NATURAL CREAMY PEANUT BUTTER
• JIF NATURAL CRUNCHY PEANUT BUTTER
• JIF NATURAL HONEY
• JIF NO ADDED SUGAR PEANUT BUTTER
• JIF PORTION CONTROL PEANUT BUTTER
• JIF REDUCED FAT CREAMY PEANUT BUTTER
• JIF SQUEEZABLE POUCH


What Can I Get?
JIF will review your claim and if your claim is valid, you will receive coupons for replacement products for any items covered by the recall. If you have more than five different products to claim complete the form again.


How Do I File a Claim?
If you believe you qualify, you can submit a claim to receive reimbursement. You will have to contact JIF and provide them with as much detail as possible. First, select General Questions, select Complaint, and then provide your product details, coupons, dates of purchase, and any other descriptions about the JIF products you purchased that you believe are covered by the recall.




How Do I Find Class Action Settlements?
Find all the latest Class Action Settlements you can qualify for by getting notified of new lawsuits as soon as they are open to claims:



For more recalls and class actions keep scrolling below.